As usually for Fall
riding boots
and
uggs
are a must.
But a new Fashion item is Wedge Sneakers.
I first spotted wedge sneakers on
Instagram
.
A friend of mines had bought a pair and she had given a
sneak peak
of what they looked like and I fell in
love
.
Below are the ones she bought. These are by Steve Madden
NOT
Isabel Marant.
GREAT
knock offs right!!!
After seeing hers on the hunt I went lol. I feel that if I am going to purchase a pair of wedge sneakers I want something with a little color. First I considered getting the Isabel Marant ones because my birthday is coming up and I thought I would treat myself.
Unfortunately they are SOLD OUT everywhere. And I mean everywhere.
SO then I saw on tumblr that Steve Madden had came out with their own edition of the wedge sneaker. HALF THE PRICE w/ THE SAME GREAT COLOR COMBOS
For now I have let go of my love for the
red
Isabel Marant
My problem now is that I just cant seem to pick which pair I want.
First I had decided on these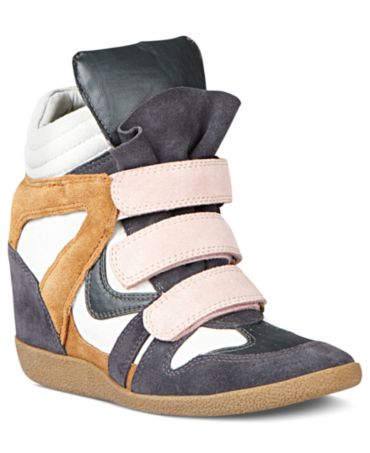 But then I cam across these
I know the second pair is going to be
great
for Fall with the color combo. The
dark gray
and
navy blue
and especially that
yellow
but I cant help but to feel
connected
to the first pair. Seeing as how they were the
first pair
that caught my eye.
OH PLEASE someone HELP ME